Some links on this page are affiliate links which means that, if you choose to make a purchase, I may earn a small commission at no extra cost to you. I greatly appreciate your support!
RC Cars are one of the most popular toys. However, RC cars can be expensive, and it's hard to know which ones are worth buying. You cannot invest in an RC car without knowing if it's worth the money!
So, it's never easy to find a good deal on RC cars – the market is saturated with cheap knockoffs that don't work well and break easily. You could end up spending a lot of money on a car that doesn't even work or breaks down after a few uses.
BangGood is the answer to all these problems, but how do we find a reliable RC Car on BangGood when there are a million options available! We have compiled this list for you with the RC Cars that offer the best price point and are reliable and durable. Plus, they ship quickly,y so you can get your new car up and running in no time. So let's begin!
Should You Buy RC Car From BangGood?
There are many reasons why you should buy RC cars from BangGood. Here are some of them:
BangGood has a wide selection of RC cars to choose from, including both beginner and advanced models.
All of the RC cars sold on BangGood are high quality and have been tested for durability.
BangGood offers competitive prices on all of its RC cars, making it an affordable option for anyone interested in this hobby.
The customer service department at BangGood is extremely helpful and always available to answer any questions or concerns you may have. They also have a buyer protection policy.
Buying RC cars from BangGood is a quick and easy process that can be completed online in just a few
Top 5 RC Car On BangGood
In this article, we'll be taking a look at the top 5 RC cars on BangGood. If you're in the market for a new RC car, then you'll want to read on. We have chosen these products on the basis of their durability, features they offer, satisfied customers, and drawbacks so you can easily decide if the tradeoffs work for you or not!
1. WLtoys 12427 RC Car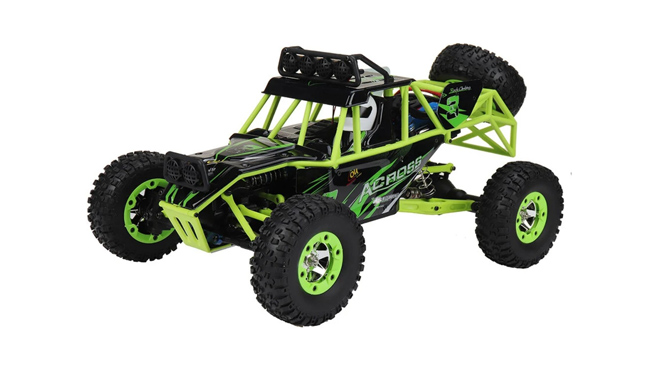 First up on our list is the WLtoys 12427 RC Car. This car is perfect for beginners, as it's easy to control and is very durable. WLtoys is a great choice for RC toys and quadcopters. This company offers outstanding products at the most competitive prices on BangGood.
Specifications:
Scale: 1/12
Speed: 50km/h
Net Weight: 1435g
Battery: 4V 1500mAh Li Battery
Running Time: About 10 mins
Charging Time: About 3 hours
Control Range: Around 100m
Dimensions: 42*24.5*18cm
Reasons To Buy
WLtoys 12427 RC Caris is adjustable and upgradable which is a great feature not offered by many RC cars.
This car has great value for money; it offers a variety of excellent features at this price point.
For beginners, this car is perfect since it's easy to control.
The car is quite durable and doesn't break off easily.
Reasons To Avoid
Wobbly steering
Expensive replacements
Product Description
Looking for a new RC car to take your skills up a notch? Look no further than the WLtoys 12427! This bad boy comes packing a powerful 7.4V 1500mAh Li-battery, letting you hit top speeds and make hairpin turns with ease. Not to mention, it has a scale of 1/12, meaning it's just the right size for any skill level.
This car is small and light, with a max speed of 50km/h. It has a good run time and fast charging times. The control range is around 100m, making it great for larger spaces. And finally, the dimensions are 42*24.5*18cm, making it a good choice for those looking for a small, fast car.
So what are you waiting for? Pick up a WLtoys 12427 today!
2. Wltoys 144001 Racing RC Car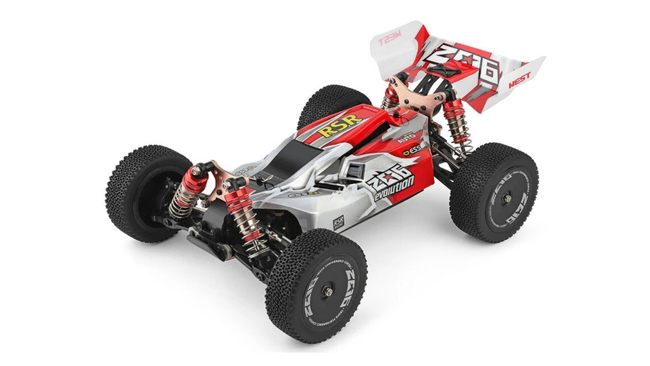 If you're looking for a great deal on an RC car, BangGood is the place to be. They offer some of the best prices on the market, and Wltoys 144001 Racing RC car is one of our top picks!
They offer fast delivery. Wltoys is a reliable seller, and you can shop with confidence knowing that you'll get what you ordered.
Specifications
Scale: 1/14
Max. Speed: 60km/h
Net Weight: 1800g
Battery: 7.4v 1500MAH
Running Time: About 10-12 mins
Charging Time: About 3 hours
Control Range: Around 100m
Dimensions: 31*20.5*11cm
Reasons To Buy
The car's body is constructed of a high-strength aluminum alloy with excellent durability.
The powerful yet quiet 550-watt motor spins the fan at up to 3200 RPM.
Zinc alloys provide a long service life, and the high-tensile steel used in their construction prevents them from rusting.
Using oil pressure shock absorbers in the engine.
Reasons To Avoid
Product Description
This Wltoys 144001 RC car is the perfect addition to any racing enthusiast's collection! Capable of speeds up to 60km/h, this car is sure to provide hours of exhilarating fun. Plus, it features a highly realistic design that is sure to impress onlookers. So what are you waiting for? Order your Wltoys 144001 RC car today!
This RC car reaches top speeds of up to 18 mph, making it the perfect choice for anyone looking for a thrilling ride. The 7.4v 1500mah battery ensures that you'll have plenty of power to spare, while the two- or three-battery design allows you to customize your experience. So whether you're a racing enthusiast or just looking for some fun weekend entertainment, the Wltoys 144001 RC car is sure to deliver.
3. JLB Racing CHEETAH RC Car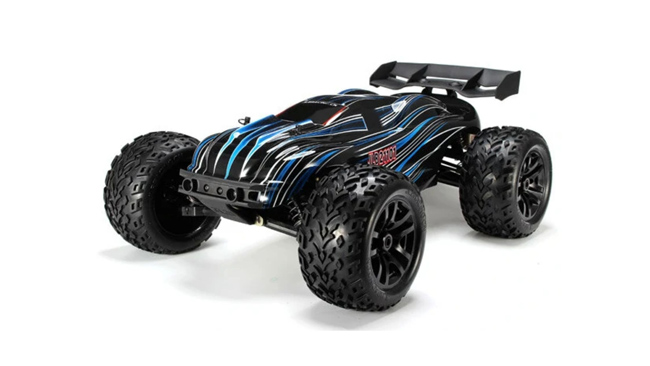 BangGoodoffers some of the best prices on the market, and JLB Racing CHEETAH RC Caris one of our top picks! This RC car is ideal for someone looking for a high speed.
Specifications
Scale: 1/10
Speed: 80km/h
Battery:1V 4000mAh 30C LIPO
Running Time: About 10 mins
Charging Time: About 30min
Control Range: Around 100 – 180 m
Dimensions: 500*360*205mm
Reasons To Buy
You can operate the vehicle at a normal automobile speed of 80km/h.
The wheelie is a snap with the 3670 2500KV high-torque motor behind it. You may do the trick whenever you want.
The frame is protected by a thick metal plate, and the shock absorbers provide it with excellent stability.
4000mAh Lithium-ion battery gives you more than enough juice to get your day started.
Product Description
JLB Racing CHEETAH 120A RC Car is designed according to scale 1/10 with a beautiful outlook matching with a real racing car. The car adopts a 120A waterproof brushless ESC and 2200KV brushless motor, allowing the car to run on various roads smoothly with a max speed of over 80 km/h. What's more, the car is equipped with an adjustable front and rear suspension system, an aluminum shock absorber, and a high-quality exterior.
This car is perfect for advanced drivers who are looking for speed and power. The JLB Racing CHEETAH 120A is made with a durable plastic body and comes with a powerful 11.1V 4000mAh 30C LIPO battery that will give you about 10 minutes of racing time on a full charge.
4. RGT EX86100 RC Car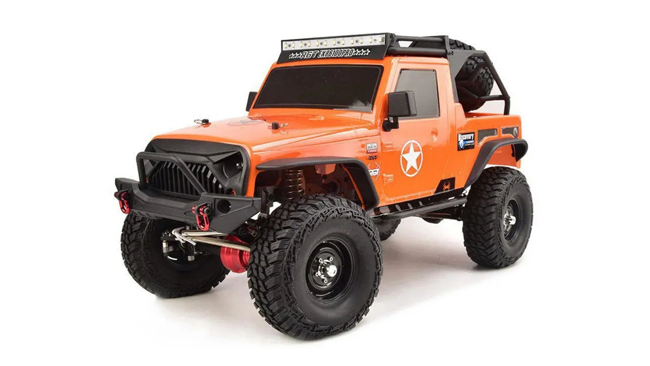 Now, if you're looking for a quality RC car that can handle off-road terrain, the RGT EX86100 on BangGood is an excellent option. This vehicle is made with brushed motors and a 2.4Ghz transmitter, making it an excellent choice on the best price point.
Specifications:
Scale: 1/10
Frequency: 2.4G
Speed: 20-30 km/h
Weight: 2567g
Battery: 2V  2000mAh Ni-MH battery
Running Time: About 20 mins
Charging Time: About 3.5 hours
Radio system: 2.4Ghz 2CH
Dimensions: 510*230*245mm
Reasons To Buy
The EX86100's running time is about 20 minutes on a single charge
It is made of durable plastic and has 4 wheel drive so it can go over dirt, gravel, and rocks.
It runs at a 20-30 km/h speed, which is decent for a remote control car.
Reasons To Avoid
Made up of plastic
Parts are hard to find
Product Description
The RGT EX86100 RC Car is a remote control car that reaches speeds of up to 20-30 km/h. With its large, durable tires and powerful engine, this RC car can handle any terrain or surface. The car also comes with a 2.4GHz transmitter for interference-free driving.
It is a 1/10th scale, electric-powered off-road RC car. The RGT EX86100 features adjustable power modes, front and rear differentials, and anodized blue aluminum parts. This car is perfect for anyone who loves the outdoors and wants to experience the thrill of an RC car.
5. Orlandoo OH35A01RC Car Unpainted Rock Crawler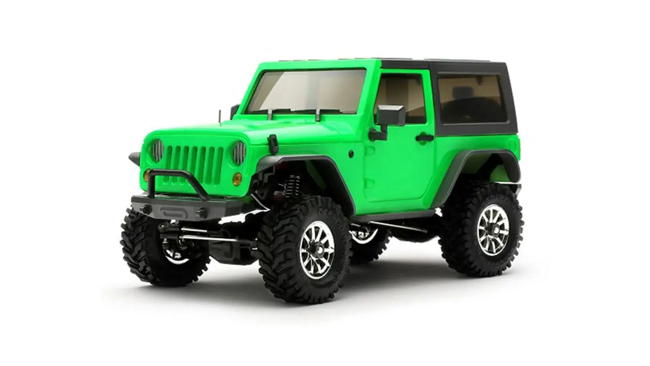 BangGood has a large selection of RC cars, and you can find some great deals on the Orlandoo OH35A01 RC car. This rock crawler is perfect for anyone who loves off-roading, and it's a great choice for car lovers.
Specifications
Scale: 1/35
Net Weight: 1435g
Battery: 2V 300mAh NIMH Battery
Running Time: About 20 – 35 mins
Charging Time: About 3 hours
Radio controller requirement:3channel 4ghz radio
Dimensions: 63x57x126 mm
Reasons To Buy
This is the smallest and most scale-looking commercial four-wheel-drive crawler on the market.
Optional alloy/metal upgrades such as axle, driveshaft and etc.
The extra-long runtime on the included NIMH battery is remarkable. The average duration of 20 minutes to 35 minutes has been established.
Reasons To Avoid
It's very difficult to build this DIY kit due to the number of tiny plastic parts it has.
You need to have some patience and experience in building models like these.
Product Description
If you are looking for a great present for a new little one, an RC car is an ideal choice. It is a toy that will provide hours of fun for the child and joy for the parent. For parents looking for a good present for their child, there are some RC cars that are a bit more expensive, but there are also some good RC cars that are less expensive.
Orlandoo RC Car is an RC car that is perfect for 2-4 years old kids. It is a scaled-down version of the RC cars that are used in competitions.
Orlandoo RC Car is a remote control car with a 7.2V 300mAh NIMH battery that can last up to 7 hours. It has a design that is based on a real car that is designed to be durable, powerful, and with a great performance.
Orlandoo RC Car is a DIY RC car that has a net weight of 1435g. It's a perfect gift for kids and adults who are crazy about cars. With its simple design and great features, this is a must-have toy for your kids.
Frequently Asked Questions
Is the shipping of these RC cars safe?
BangGood is a great option for shoppers looking to save money on RC cars. They ship the products safely without any delays. Most of the sellers we have mentioned ship safely in 24 hours and provide missing item guarantees. The website offers some of the best prices on the internet, and shoppers can often find free shipping deals. In addition, BangGood offers a wide variety of RC cars, so shoppers are sure to find the perfect remote-control car for their needs.
How long does it take me to receive the RC cars From BangGood?
If the goods are sent from a nearby BangGood warehouse to the buyer's location, they may arrive in as little as 2 days. It typically takes 8 days or more for goods to arrive from a BangGood warehouse in China.
However, customers should take into account that weekends and holidays will result in longer delivery times. Some products may not be stocked by BangGood warehouses and could have to be shipped from the Chinese mainland. In these cases, the wait time for delivery could be longer.
Please note that the estimated arrival time is just that – an estimate. There are many factors that can affect when your order arrives, like the type of product, availability, and your chosen shipping method.
Does Banggood have buyer protection?
BangGood does have buyer protection. This means that if you don't receive your order, or if it arrives damaged, you can file a claim to get a refund. You should keep in mind, though, that there are some conditions that need to be met in order to qualify for buyer protection. For example, you typically need to provide proof of purchase and file a claim within a certain timeframe.
How do you know if the seller is legit?
There is no surefire answer, but you can take some steps to protect yourself:
Do your research. Read reviews articles like this one on the internet. See reviews if others have had negative experiences with them.
Be aware of red flags. Watch out for sellers who ask for payment through wiretransfer or who have low response rates on customer reviews.
Read the terms and conditions. Make sure you know what you're getting into before you make a purchase. For example, some sellers may charge restocking fees if you decide to return the product.
How much do remote control cars cost?
Remote control cars typically cost anywhere from $30 to $300. Banggood has a wide range of RC cars that are very affordable, with prices starting at just $7. BangGood's cars are made with high-quality materials and construction, so they're durable and long-lasting.
How do I choose a remote-control car?
When it comes to price, BangGood has a wide range of options for you to choose from. You can find high-quality cars at a fraction of the cost when compared to buying them from a physical store. However, if the price is too low, you may be getting a cheap RC car that won't last very long.
On the other hand, if you want a car that will provide you with hours of fun, then we suggest investing in a more expensive model. The good news is that BangGood offers a wide range of quality cars, so you're sure to find one that meets your needs.
You should always check the features of the car because not all RC cars are created equal. We recommend reading guides and watching tutorials/reviews online before getting your hands on a product that you haven't used before!
Conclusion
Banggood is an excellent marketplace that offers a wide range of products at great prices. Now that we have reviewed the best RC cars on BangGood, our top 5 picks will help you choose the one that fits your needs!
The WLtoys 12427 RC Car and Wltoys 144001 Racing RC Caris are perfect for beginner RC car enthusiasts! These cars have an impressive top speed of up to80 mph and come with a 3-channel transmitter, which makes them easy to control.
The RGT EX86100 RC Car is also incredibly durable and can handle some serious crashes.
We hope we made your purchasing decision easy with this article!