Some links on this page are affiliate links which means that, if you choose to make a purchase, I may earn a small commission at no extra cost to you. I greatly appreciate your support!
Not long before, 3D printing was restricted to specific industries and professionals. People considered it ahead of its time in technology. But with the advancement and proliferation of technology, these sophisticated devices are now everywhere.
There are plenty of places to buy these printers online, but if you are looking for a huge range of high-quality printers with an equally wide range of prices, no platform can beat Aliexpress.
Aliexpress hosts hundreds of Chinese 3D printer sellers. Each brand offers a broad selection of printers with many features to cater to your needs and budget.
With so many printers available at your fingertips, it can be pretty confusing to find the printer that will match your requirements.
If you wonder which printers offer the best quality at amazing prices, we have curated a list of the best 3D printers on Aliexpress. Moreover, these are highly-rated printers belonging to reliable and trustworthy companies. So, without further ado, let's dive straight into it.
Top 8 Best 3D Printers on Aliexpress Reviews 2023
In order to choose the best 3D printers, we reviewed different types of printers available on Aliexpress. We considered options for beginners, hobbyists, and professional designers.
Along the way, we sought out printers that offered easy installation, stable prints, durability,  large print size, stylish designs, and high printing speed, highlighting the best in each category.
Further, we selected printers that deliver premium quality in the low-end markets.
Here is the overview of the Aliexpress 3D printers:
Anycubic Photon Mono X 3d Printer (Best For Overall)
Flyingbear-Ghost 5 3D Printer (Best for Durability)
Anycubic Mega S 3D Printer (Best for Precision)
Tronxy X5sa-500 Pro (Best for Large Build Volume)
Anet Auto Bed Leveling (Best for Auto Leveling)
Flsun Q5 3D Printer (Best for Compact Design)
Qidi Tech 3D Printer (Best for Beginner)
1. Anycubic Photon Mono X 3d Printer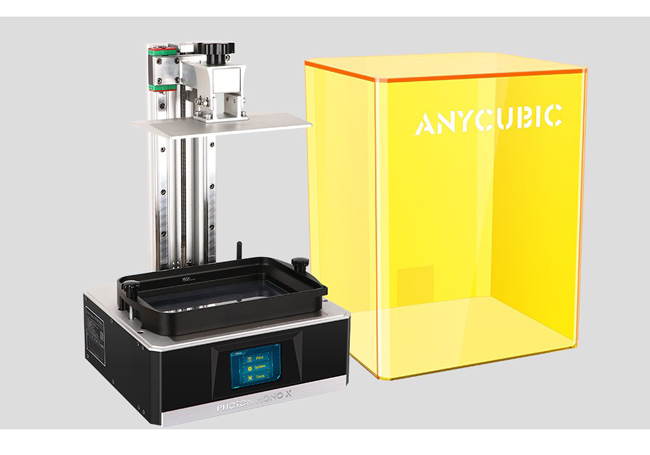 Specification:
Print technology: Resin
Printing Size: 192 × 120 × 245 mm
Printing Speed: MAX 60mm/h
Voltage: 110-220V
Operation: 3.5 inches Touch Screen
Filament: 405nm UV Resin
LCD: 8.9 inches 4K Monochrome
If you are new to the 3D printing world and need a user-friendly printer, look no further. Anycubic Photon Mono X has covered it all for you. With an easy setup, optimum printing speed, 4K monochrome LCD, unmatched print quality, and reliability, it helps create professional models that wouldn't be possible with the other printers in the same price range.
Anycubic, a Chinese company, is renowned for delivering high-end printers without costing much. Moreover, the brand is reliable and has been committed to providing an advanced printing experience with its quality products since 2013.
With Photon series, it has taken the brand's reputation to the next level. One of its variants, Mono X, stands out due to its professional-grade printing quality and considerably less cost.
With advanced technology, functionality, usability, overall print quality, and build volume, it is a perfect option in resin technology. The large build volume allows you to create large prints with more freedom.
Additionally, it can produce excellent prints with maximum details. This ultra-precision quality is due to the 4k Monochrome LCD screen that allows a better UV pass-through and masking. Further, with its Wifi functionality, you can still access the printer whether you are in bed or sitting on the couch.
Reasons to Buy
Great Quality
Large Volume
Easy to Use
Faster Prints
Reasons to Avoid
Build Platform Difficult to Clean
Poor Wifi Functionality
2. Flyingbear Ghost 5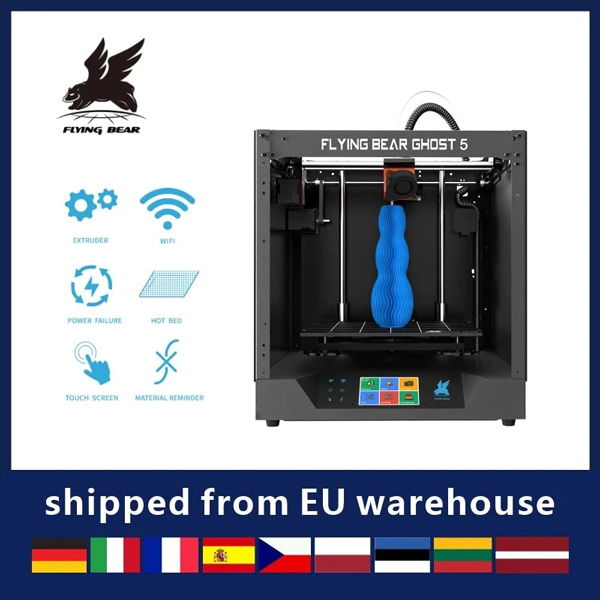 Specification:
Print technology: FDM
Printing Size: 255x210x200mm
Printing Speed: Max 150 mm/s
Voltage: 110-220V
Filament: PLA, ABS, Wood, HIPS
Operation: 3.5 inches Colorful Touch Screen
If you are looking for a printer that can last longer without losing its quality, Flyingbear Ghost 5 is the one for you. It comes with a steel frame that gives it unmatched strength and durability. Due to this and many other features, it is the best-selling 3D printer on Aliexpress.
Flyingbear is a Chinese company that has maintained its quality and reliability for the last six years on the Aliexpress platform. They have a wide selection of printers and accessories, and with Ghost 5 FDM printer, they attempt to be reliable, easy to use, precise, fast, and affordable.
Among various features that this machine offers, the most outstanding is the printing speed. With extraordinary printing speed (150mm/s), you can get your prints pretty fast. It allows you to work continuously and meet your deadlines on time.
Also, you can avoid printing delays due to overheating with the help of cooling fans installed on the mainboard and Extruder, keeping the printer cool and increasing its lifespan.
Additionally, they claim this printer to be beginner-friendly. And it's true, with simple operation and a colorful interactive touch screen, you can instantly start working like a pro.
Another prominent quality of this printer is its ability to let you sculpt real-world designs with maximum detail. Moreover, in case of accidental power failure or filament exhaustion, a power resume function, and filament exhaustion sensor can save time and printing material.
Reasons to Buy
Fast Printing Speed
Large Prints
User-Friendly Operation
High Precision with Sticky Coated Glass Platform
Filament Exhaustion Sensor
Print resume function
Wifi Connectability
Reasons to Avoid
Difficult Assembly
Hard to Calibrate
3. Anycubic Mega S 3D Printer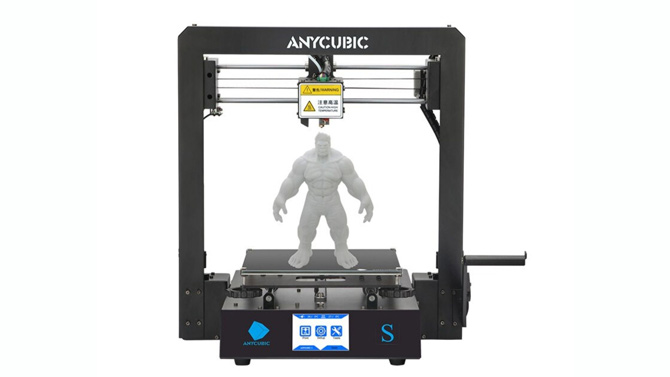 Specification:
Print technology: FDM
Printing Size: 210x210x205mm
Printing Speed: 60mm/s
Voltage: 110-220V
Filament: PLA, ABS, TPU,PETG
Operation: TFT Touch Screen
It's no surprise that the Anycubic Mega S 3D printer is next on our list.  Having a reputation as a high-precision, reliable, and modestly priced printer, it's among the top-rated 3D printers on Aliexpress.
This printer is an upgrade of its predecessor i3 Mega that has dominated the low-end market due to its phenomenal performance, precision, and affordability. In addition to the existing qualities of its predecessor, this upgraded printer brings more value, versatility, and accuracy to the brand.
It has to do with the sturdy metal frame that maintains consistent and accurate printing even at higher speeds by reducing the body shake. Further, the durable printing platform gives excellent adhesion and easy removal.
Like most printers on our lists, this machine can detect when you are running low on the filament to keep the smooth workflow. Also, the power recovery function comes in handy, especially If you live in areas where power outage is frequent. It saves progress and resumes printing after the power is back.
Reasons to Buy
Large Build Area for a low-priced printer
Use Cura software
Quick Assembly
Exceptional Heating Print Bed
Easy to Handle and Level
Low Error Rate
Reasons to Avoid
Quite Noisey
High Power Consumption
4. Tronxy X5SA-500 Pro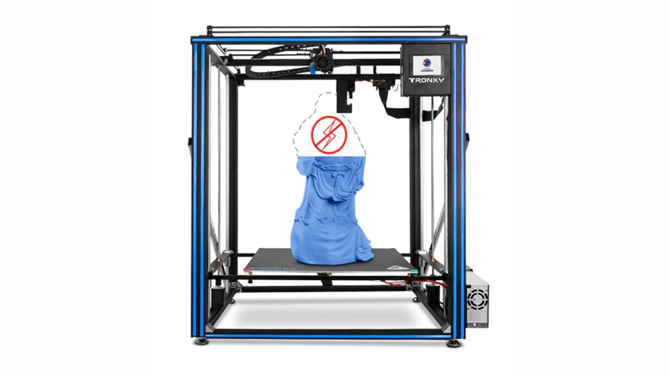 Specification:
Print technology: FDM
Printing Size: 500x500x600mm
Printing Speed: 100mm/s
Voltage: 110-220V
Filament: PLA, ABS, HIPS, WOOD, PC, PVE, TPU
Operation: Touch screen
Tronxy X5SA-500 is pretty popular among professional designers and 3D enthusiasts because of its large prints. Having a build volume larger than most of the devices in this price range makes it stand out.
This printer allows you more freedom to realize your ideas and designs.
The maker, Tronxy, is a Chinese company that understands the joy of 3D printing, and that is why they have created this machine to bring more fun to life with accurate printing. It is a reliable brand on Aliexpress and has been operating since 2016.
Moreover, when you use this machine, you will notice its smooth, silent, and stable printing process. This remarkable printing experience is thanks to the aluminum frame.
And with Titan extruder, stability is further enhanced, allowing high-speed printing with precision without losing the details. In addition to these features, this printer's automatic leveler makes the printing process even more convenient, especially for beginners.
Reasons to Buy
Massive Build Volume
OSG External Dual Axis Guide
Automatic bed leveler
Filament Detection runs out
Resume print function
Reason to Avoid:
Difficult Assembly
Underpowered
5. Anet Auto Bed Leveling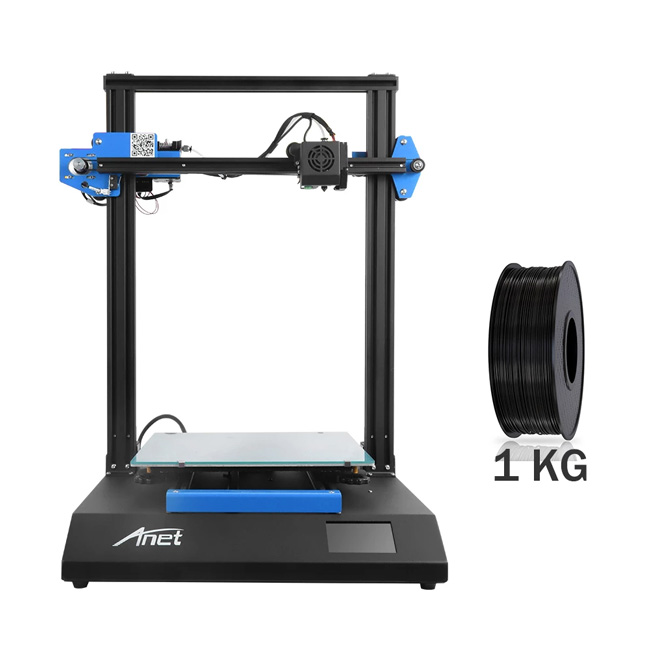 Specification:
Print technology: FDM
Printing Size: 300*300*400mm
Printing Speed: 150mm/s
Voltage: 110-220V
Filament: ABS/PLA/HIPS
Operation: 3.5-inch color touch screen
Anet 3D printer is the best auto-leveling printer on Aliexpress. With automatic calibration and bed leveling, you get uniform prints firmly attached to the bed. You don't need to give any manual input in the whole process of calibration, which is an excellent feature for newbies. All you need is to load the SD card, and within minutes you will start printing without any hassle.
A quick note about the seller and its reliability: though the store is pretty new at Aliexpress, it has become quite popular, as it delivers quality printers in the low price range. Aside from being budget-friendly, it's an FDM printer that uses a melted filament to build your project layer by layer, bringing more accuracy and detail to the prints.
Annet doesn't stop here. The ultra-large print allows designers with more freedom in their creation. Imagine the possibilities of materializing limitless ideas with this small machine. Other features include dual Z-axis and Y-axis printing track that ensures stable and accurate prints. Also, a decent touchscreen control panel makes it convenient to operate.
Reasons to Buy:
Minimum issues with unlevel print bed and nozzle jamming
High printing speed
Compatible with most filament types
Easy assemble due to modular frame
Reason to Avoid:
Requires upgrades
Nozzles are not the best quality
7. Flsun Q5 3D Printer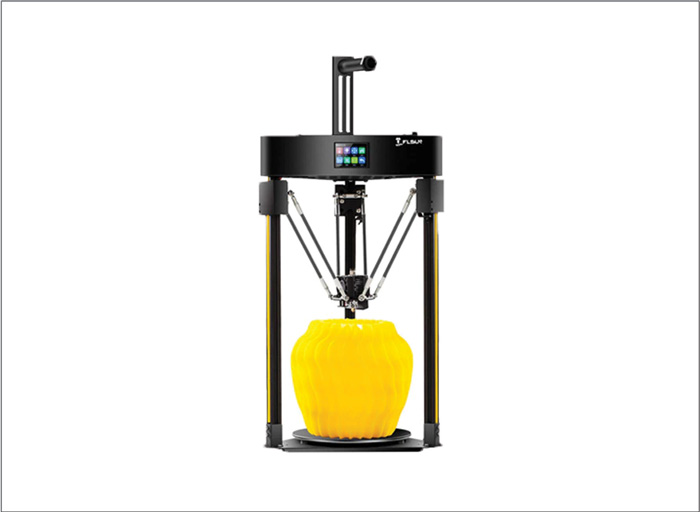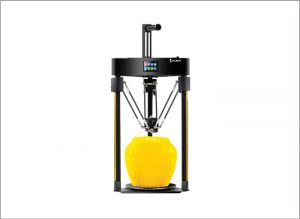 Specification:
Print technology: FDM
Printing Size: 200x200x200mm
Printing Speed: 120mm/s
Voltage: 110-220V
Filament:  PLA, ABS,Flexible PLA
Operation: Touch screen
The Flsun Q5 is known for its compact and sleek design. You can easily fit this machine into your workstation as it takes a minimum footprint.
The maker, Flsun Store, has been actively providing quality printers to the low-end market since 2016. With Q5, Flsun managed to set its standards higher in terms of quality and performance.
Looking at this printer, the first thing you will notice is its user-friendly interface. It is pretty simple and easy to operate, ideal for beginners. Further, this printer's high printing speed surprises the users with a smooth workflow: you won't experience any stutter during its operation.
While analyzing the printing capabilities, you can create detailed and complex models in one click. The Titan extruder effectively handles flexible filament allowing you to print limitless designs.
Additionally, this printer has resolved the issue of the intense and annoying cleaning process by introducing a lattice glass print bed. It allows effortless cleaning in a matter of seconds. Also, this glass has good adhesive properties that provide a stable printing platform.
Reasons to Buy:
Easy assembly and operation
Accurate printing
Power recovery option
High printing speed and large printing size
Reasons to Avoid:
Bed leveling issues
Filament leakage
Noisy operation
8. Qidi Tech iMate S 3D Printer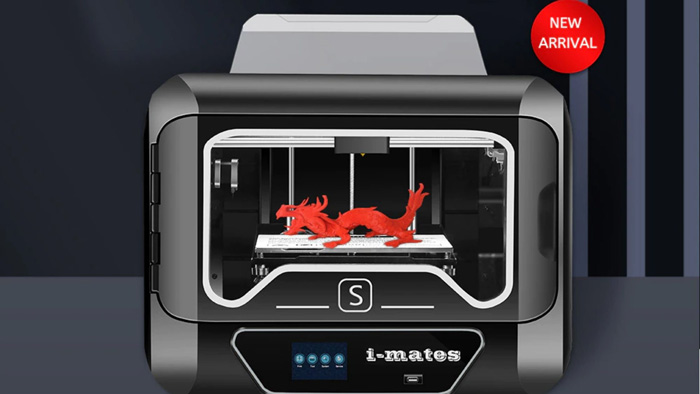 Specification:
Print technology: FDM
Printing Size: 260*200*200 mm
Printing Speed: 30-150mm/s
Voltage: 110-220V
Filament:  ABS/PLA/TPU/PETG
Operation: Touch screen
The iMate S is the continuation of the quality and high-tech features that Qidi 3D printing company has been providing to its customer for a long time. This printer enables its users to create astonishing professional designs for just under $500.
It has successfully dialed into the end-user by providing a large print volume, sturdy frame, and various filament compatibility. For this set price, this printer is perfect for beginners and seasoned designers.
With an aim to target beginners, this printer established itself as user-friendly. That is why it comes fully assembled so that you can get started without worrying about complicated construction. Further, the software and operating system are easy to use with preset profiles.
Plus, it comes with an array of accessories and hardware, including an extra magnetic build plate, extra extruder, and more. Another great feature is its flexible build plate that aids in removing prints.
Reasons to Buy:
3D printer out of the box
Flexible build plate
Advanced metal frame
Resumption after Power Failure
Wi-Fi connectivity
Reasons to Avoid:
Manual calibration
Issues with high-temperature printing
Frequently Asked Questions
Is it safe to buy a Chinese 3D Printer?
Chinese printers are relatively cheap, making anyone fear their quality and durability. While products may be inexpensive, it doesn't represent the quality. Similarly, an expensive 3D printer may not have the best of qualities and specifications.
There are plenty of industries in China that delivers good-quality raw material at lower rates, reducing the manufacturing cost. Also, China has a variety of 3D printers ranging from inexpensive to high-end to cater to everyone's requirements. However, you have to search a little to avoid any fake sellers.
How do I Find a Reliable 3D Printer Seller on AliExpress?
While looking for 3D printers on Aliexpress, you will have plenty of options to buy from different sellers. To find a reliable seller, you have to consider several aspects before making the order.  Here are some of these things that can assist in finding the perfect one:
Seller Reputation
When buying a 3D printer on Aliexpress, it is crucial to consider the seller's reliability and reputation. It is not easy to get the top brand label on Aliexpress. There is a whole process that takes many considerations like the number of years since the store is operating on Aliexpress, positive ratings and feedback, customer services, and the number of followers. You can find all this information by visiting the store home page, reading reviews about that store and products, and talking to someone you know who has experience with that store.
Number of Sales
Another way to know the seller's trustworthiness is by checking the sales of the shop. If loads of people are buying from that shop, there is great confidence these people have in this brand.
Customer's Feedback
These unbiased customer reviews and comments are perhaps the most efficient way to know about the brand. The feedback is the experiences of these customers with these stores. It gives a clear picture of whether to buy from this store or not.
Delivery and Shipment
Most sellers have provided various shipment options and mentioned the expected delivery date. Further, you can look into the customer's feedback regarding delivery and shipment ratings.
Conclusion
In the age of technology, 3D printers have become a common commodity for professional designers, architects, and hobbyists.
However, getting these extraordinary devices a few years back would require a handsome amount of money, which made these inaccessible to ordinary people.
But now, you can buy professional-grade Chinese printers for just under a few hundred dollars. The best market to find these cheap machines is Aliexpress.
Many 3D printer sellers on Aliexpress make it quite challenging to find the right one, especially for a person unfamiliar with the platform and brands.
In our effort to assist you in getting the perfect printing machine, we have made this list that includes the best 3D printers on Aliexpress. Happy buying!