Given the huge amounts of awesome products offered at reasonable prices on DHgate, it's no surprise that sellers and customers are flocking to the e-commerce marketplace to purchase products.
However, one question that most customers ask is how long does DHgate take to ship products to customers?
It's understandable because everyone wants to ensure their order is shipped to their destination within the specified time.
In this article, we're going to talk about how long it takes for DHgate to ship products to customers and more.
Let's get started.
How Long Does DHgate Take to Ship?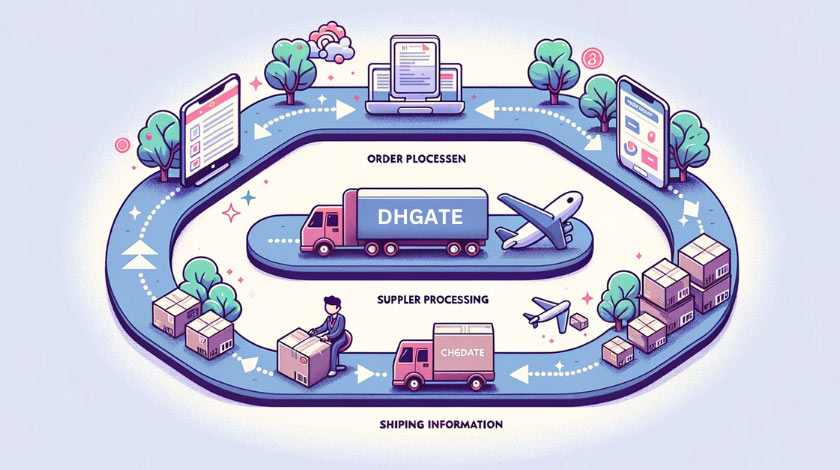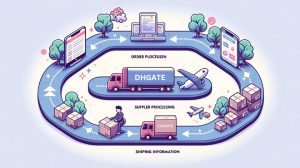 On average, DHgate takes 3 to 15 business days to ship goods to buyers. However, this may depend on certain factors such as custom issues, flight delays, and seasonal events.
Goods that require customization may take longer to be ready for shipping. Also, DHgate shipment for goods for domestic buyers is much faster than for international buyers.
Overall, shipping time can be affected by the shipping option you choose as well as the time DHgate takes to process your order.
How Long Does DHgate Take To Process Order?
While the shipping time is an important factor to focus on, order processing is also another crucial factor.
Order processing involves the time it takes for the supplier to process your order for shipment. It also includes the time it takes for DHgate to send the tracking information to you, if applicable.
If you have a lot of orders to be processed the order processing time will be a bit longer.
Generally, order processing varies depending on the shipping method you choose, package weight, and the availability of the items you order.
DHgate processes new orders within 24 hours but it can take around 2 to 5 days for suppliers to process and ship items to you.
How Long Does DHgate Take To Deliver?
Generally, the time it takes for DHgate to deliver items to buyers is dependent on a wide range of factors such as the shipping method you choose, your location, and the location of the supplier.
Besides, delivery time may be affected by the number of orders you place. If your order is bulky, the delivery time will take longer than usual. 
The average delivery time for DHgate is 3 to 15 working days.
Why is DHgate Taking So Long To Ship? Factors That Influence Shipping
As mentioned above, it can take longer or shorter for your order to be shipped from the day you make the purchase.
For instance, if the order you have placed isn't available in the supplier's warehouse, the supplier will have to find the items. Which means the shipping time will also take longer.
Aside from that, here are factors that can influence DHgate shipping time:
Seasonal events
Delayed flight transfers
Delayed clearance from the warehouse
Custom clearance issues
Holidays and major events

What are the Delivery Options Available on DHgate?
DHgate offers a wide range of delivery methods so it's up to you to choose your preferred option.
Below are the common DHgate shipping options for sellers to ship items to buyers:
FedEx
China Post
Singapore Post
DHL
EMS
TNT
UPS
Hong Kong Post
How Can I Contact a Seller on DHgate?
There are many reasons you could want to contact a seller on DHgate. For instance, you could want to find out more about a product you want to purchase or negotiate the price.
The good news is that DHgate allows buyers to contact sellers easily through Chat and message.
Once you're logged into the platform, go to the item list and details page and click the Chat icon as shown below:
What Are the Estimated Shipping Times By Country For DHgate Orders?
DHgate's estimated shipping times vary from one country to another and are based on the shipping method you choose.
Below are the estimated DHgate shipping times to different countries:
From China to Germany: The most used shipping options include ocean freight, rail freight, and air freight.
Airfreight takes a matter of hours; ocean freight takes 52 to 55 days whereas rail freight takes 13 to 16 days for your cargo to arrive in Duisburg, Germany from Chongqing, China.
From China to the US:  Here, sellers can use air freight, ocean freight, or courier shipping.
The air freight shipping time can be between 8 to 10 days, ocean freight from 19 to 32 days, and courier shipping from 2 to 20 days depending on the courier service you choose.
From China to the UK: Again here, items can be shipped by sea to different port destinations in the UK which takes around 6 weeks to 8 weeks.
When shipped by air, the transit time is around 4 to 7 days depending on the route.
From China to Canada: The estimated delivery time is 5 to 14 working days.
From China to Europe: Shipping times can be around 3 to 5 business days but some orders can be shipped in as little as 2 to 3 days.
Frequently Asked Questions
Here are the most frequently asked questions about how long DHgate takes to ship items to the buyer.
How to Track My DHgate Order?
Tracking your DHgate order helps you to stay updated on the status/whereabouts of your latest purchases.
The good news is that DHgate allows you to track the whereabouts of your order at any given time by giving you a tracking number or waybill number the moment your order is dispatched.
Here is how to track your order via the DHgate platform:
Go to DHgate.com and log in to your account.
Click on "My Orders".
Choose the order you want to track. That's where you'll see the status of your order.
Ensure you contact your supplier or DHgate customer support if you encounter any problems during order tracking.
Does DHgate Offer Free Shipping?
Yes. DHgate offers free shipping, but this is available on select items only.  Also, there is a minimum order requirement for you to enjoy DHgate free shipping.
Locate the "Free Shipping" tag beside or at the bottom of the product you want to purchase before checking out.
Similarly, you can get discounted shipping by using DHgate promo codes. Here, you'll need to sign up for a DHgate VIP account to gain access to coupon codes and other awesome deals.
What Should I Do If My Order Hasn't Arrived Within the Estimated Shipping Time?
Granted, DHgate ensures a strict shipping and delivery system. However, certain situations and factors may affect the delivery time.
If this happens to you, follow the steps below:
Contact the seller to find out the reason for the delayed delivery.
Contact DHgate customer support and lodge your complaint if the seller fails to respond.
Provide your full contact details and the products you purchased including the order number and any other information the company can use to track your order.
DHgate will follow up with the carrier involved to help resolve the issue.
Does DHgate Ship to All Countries?
DHgate is a global e-commerce platform that caters to buyers from all around the world.
The e-commerce company serves companies from as far as:
Belgium
USA
Canada
Brazil
Philippines
United Kingdom
Singapore
Lebanon
India
France
And many more
Conclusion
There you have it.
Purchasing and shipping products from China to other countries from all around the world has been made easier thanks to large e-commerce platforms like DHgate.
Hopefully, we have helped you understand how long DHgate takes to ship products to your destination.
While it may take longer to get items shipped to your destination, if you want your DHgate to be shipped faster, ensure you choose the China Express shipping option.
Read Also: