Some links on this page are affiliate links which means that, if you choose to make a purchase, I may earn a small commission at no extra cost to you. I greatly appreciate your support!
DHgate is a giant marketplace where you can find thousands of wholesale sellers from China. You can discover almost everything you want to buy at an affordable price.
However, for many buyers, finding good sellers and products can be a tough task since many wholesale sellers are offering the same products in different categories and niches.
We understand.
Having used DHgate for many years, we've experienced the challenges of finding top sellers and have learned a lot from the experience.
Thus, in this article, we're going to share with you some of the practical tips we've been using to find top sellers on DHgate.
Step By Step Guide
Let's get started.
1. Search The Product
The quickest way to find good DHgate sellers is to research the product you want to buy. 
DHgate offers a wide range of products across various categories, including electronics, clothing, accessories, home goods, beauty products and many more.
Furthermore, If you have a particular interest in purchasing designer bags or watches, you'll be pleased to know that these items are also widely popular and available on DHgate.
To search for a product on DHgate, follow these short steps:
Step 1:
Visit the DHgate website by typing "www.dhgate.com" in your web browser's address bar and pressing Enter, then locate the search bar at the top of the DHgate homepage.
Step 2:
Click on the search bar and enter specific keywords related to the product you want to search for, such as "bag," "tote bag," or "leather shoulder bag," then press Enter or click on the search button.
Step 3:
After DHgate displays the search results matching your keywords, browse through the list, and use the recommended filters: "Best Selling," "Price," and "Customer Review" options, which I personally use when researching any products.
Here are the meanings and purposes of the most commonly used filters:
Best Match: Sorts search results based on relevance to your keywords.
Best Selling: Displays popular and frequently purchased products.
Price: Allows setting a specific price range or sorting by price to match your budget.
Recently Listed: Shows newly added products for exploring the latest offerings.
Customer Review: Prioritizes products with positive reviews from customers.
Free Shipping: Filters products that offer free shipping.
Suprier Suppilier: Helps find products from top-rated and reliable suppliers on DHgate.
Initially, explore all the mentioned filters to understand how they work, but remember that using multiple filters can narrow down your search results. For effective refinement, I recommend using the filters I mentioned earlier.

2. Analyze Seller Profile
After searching for the product you need, analyze each seller profile carefully so that you can make a decision about whether the store is suitable for you or not.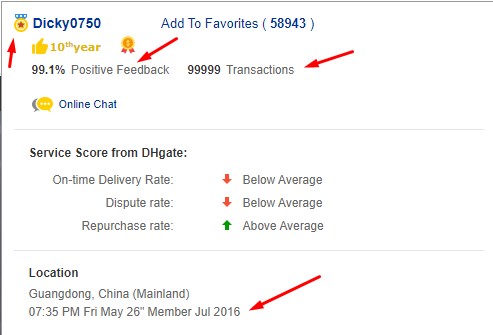 Here are some of the things you should consider when analyzing the seller profile:
Years of Experience On DHgate
It is advisable to engage with sellers on DHgate who have a significant number of years of experience delivering goods on the platform.
Positive Rating
Think of the seller's rating as a score for how well they've made their customers happy. If they have a high score, it's a good sign! It means they're doing a great job and their customers like buying from them.
You'll probably have a good time buying from them if they have a high rating. So, always try to pick a seller that has a score of 95 out of 100 or more. This means they're really good and you'll probably have a good shopping experience with them..
Total Transactions
The transaction score is also another good way to determine the reputation of the seller. Sellers who have completed a higher number of transactions indicate that they have sold more items on DHgate.
It is recommended to choose a seller who has conducted over 5000 transactions.
This means that these sellers are reliable because they care about their reputation on DHgate.
Check The Seller Badge
DHgate provides badges to sellers who meet certain criteria, such as high customer satisfaction ratings, a good track record of timely deliveries, and adherence to DHgate's policies.
Checking if a seller has earned a badge can provide additional reassurance of their credibility and commitment to delivering a positive buying experience.
Here's a detailed explanation of each badge:
Factory Seller: This badge represents sellers who are manufacturers or directly source products. They offer competitive prices and have control over product quality and authenticity.
High Quality Seller: This badge is awarded to sellers known for providing reliable and well-made products based on positive customer feedback and ratings.
DHgate High Performance Store: This badge indicates sellers who consistently provide excellent customer service, timely shipping, and reliable product quality.
Trade Assure Protects Your DHgate.com Order: This badge shows that the seller participates in DHgate's Trade Assurance program, ensuring products are delivered as described and in good condition, with refund and replacement guarantees.
Superior Seller: This badge is given to sellers who have demonstrated outstanding performance, maintaining high ratings, positive feedback, and delivering excellent service consistently.
Specialization in A Product or Niche
It is also a great idea to use sellers who specialize in a particular product or niche. These are sellers who have either created their product, worked with, or used it and can confidently guarantee that you will get great results with it.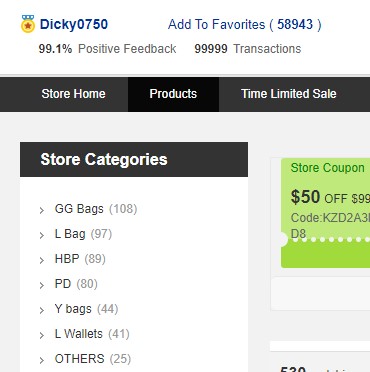 Furthermore, sellers who specialize in a particular product or niche will help you at any time if you experience a problem with the product.
Read the Customer Reviews
The next thing you need to do is to go through customer reviews.
Feedback from past customers can tell you a lot about the reputation of the seller and the quality of products they sell before contacting them.
For instance, if many people are complaining about products the seller offers, that's a red flag. The seller could be offering low-quality products.
Other Things You Can Check
Here are other things worth considering when looking for a good seller on DHgate.
This indicates how long the seller takes to respond to a query or complaint from customers. 
You should avoid sellers who take longer to respond to questions because that could mean a disaster in case you want to find out about something fast or during an emergency.
Sellers on DHgate are required to guarantee the timely delivery of products to customers. In fact, it's a requirement that every seller should set up and display the On-time Delivery status on their items.
On-time delivery is the time the seller will take to deliver items to the buyer from the time they upload the tracking number to the DHgate website. 
This means that you're eligible for a refund if the seller fails to deliver goods after the guaranteed time has elapsed.
Repurchase Rate shows how many buyers have purchased goods from the same seller several times. 
Sellers with a high repurchase rate show that customers trust them thus they keep on purchasing goods from them repeatedly.
On average, it takes 3 to 15 working days for DHgate to deliver goods to customers. However, this will depend on the shipping method you use and other factors such as the item's stock status, where you're purchasing the goods from, etc.
Ensure the seller guarantees you the time it will take to get your purchased goods delivered to your country or doorstep.
3. Communication with The Seller
Now that you have found a good seller on DHgate, the next step is to contact them either via email, chat, or phone. Make sure the seller responds promptly. This will show how serious the seller is about their business.
Remember that it's your right to see the real pictures of the product. This is especially important if the seller has the product in their house or is close to the warehouse. Some sellers will send the actual pictures without your request.
Never rely on the pictures posted on their profile unless the seller is far from what the product is.
Use this opportunity to understand more about the product the seller is offering, and clear any doubts you have about the seller. 
Maybe after reading the reviews, you noticed some bad comments about the seller.
Ask as many questions as you can to get clarification from the seller. If the seller fails to address your concerns, that's a red flag.
A reputable seller will gladly answer all the questions you ask.
4. Look for Discounts and Coupons
DHgate offers a free bundle of coupons for new customers. You can even get free shipping, discounts, and coupons for selected items.
In the seller's coupon choices, discounts are indeterminate. This means that it's something you can negotiate with the seller.
Moreover, it also depends on the DHgate sale day. Some days, DHgate offers coupons depending on product categories like clothes. 
5. Verify Payment Method
The good thing about DHgate is that the platform offers a wide range of payment options, including country-specific so you are assured to get your preferred way of paying for goods on the website.
Currently, you can pay for goods on DHgate using the following payment methods:
DHpay
Bank wire transfer 
Card
Western Union
PayPal
Payoneer
Etc. 
Often, customers buying items in small quantities pay with their credit or via PayPal. On the other hand, for bulk purchases, buyers prefer to use bank transfers or the Western Union.
6. Make A Purchase
Congratulations!
After going through the hectic task of finding a reputable seller on DHgate, you're now in the final stage of getting what you wanted on the platform.
When making your purchase, you will be required to confirm the shipping process. Ensure you choose a reliable shipping method because that will determine how long it will take before your goods are delivered to your doorstep.
Once you make payment, a message with the tracking number will be sent to the email you include during the payment process within one or two days of the purchase.
You will use the tracking number to track the whereabouts of your goods at any given point until they reach your destination.
How to Avoid Scams and Frauds Seller on DHgate
No doubt, DHgate is a genuine and safe e-commerce website.
However, just like on other online marketplaces like AliExpress, eBay, Alibaba, and more, you can get scammed on DHgate.
This is because DHgate doesn't sell its own goods. It provides sellers a platform to avail their goods to customers.
Don't worry though—here are practical tips to help you avoid getting scammed on DHgate by sellers:
Thoroughly read seller reviews by previous customers to understand the reputation of the seller and the quality of goods offered.
Double check the seller profile to know the years of experience they have been on DHgate, service score, feedback score, etc.
Ensure you don't do any deals outside of the DHgate website. Transacting within the website ensures that you're fully protected against scammers and are eligible for a refund in case of anything.
Conclusion
Learning how to find a good seller on DHgate should not always be a struggle because there are many ways to achieve that.
Of course, it can be overwhelming for a first-time buyer. However, by following the tips, you can greatly improve your experience in the online marketplace.